Today I am able to run for 15-20 mins without any struggle.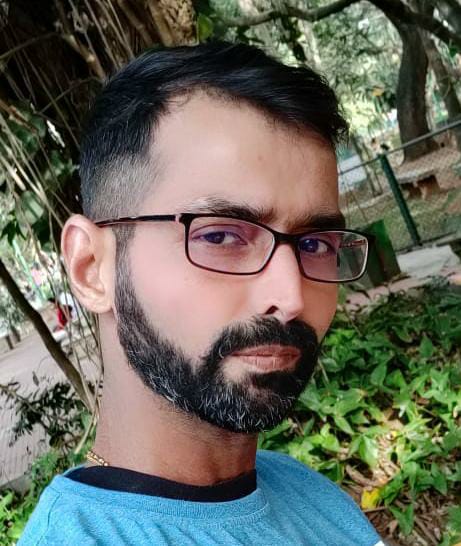 December 2013
February 2014 had many ups and downs in life. On a trip to South India – Bangalore, Mysore, Ooty, Coorg, Kodaikanal. It was a 10 days trip. No symptoms of Raynauds although I could feel chills on my fingers. Post my return to Mumbai I fell ill. I was suffering from on and off a fever for 10-12 days which led the doctors to investigate further. There was some swelling in my right hand and severe pain in my right underarm.
February – March 2014
During these 10-12 days along with fever, I once again had the episode of Raynauds. Initially, I thought it was color from cloth or bag and tried washing my hands with water. Since the water was cold it got further aggravated. But again I ignored it because I thought it was cold from air conditioning and not the weather.
Upon investigation, I was diagnosed with Deep Vein Thrombosis (DVT) and was advised to immediately get admitted to a super specialty hospital. Everyone was scared and started crying and created a chaotic situation around. I did not realize the criticality of the situation Ambani Hospital admitted me into an ICCU and now things got even scarier. Multiple tests revealed Nutcracker syndrome and DVT. With exposure to strong AC in ICCU, I was again experiencing Raynauds. I discussed hands and legs turning blue with doctors at Ambani Hospital. Initially, they thought that Raynauds was due to my deep vein thrombosis. But I questioned them. I had DVT in the right hand. Why was my left hand and legs turning blue? Whether there was any connection? That is when the rheumatologist intervened and ordered the ANA Test which confirmed Sjogren and Scleroderma.
We consulted the Ambani Rheumatologist as out-patient. The doctor explained multiple things. He explained that scleroderma is an auto-immune disorder. It is detected at an early stage. He explained that the disease can be non-progressive or progressive. Its progression can only be predicted through tests and clinical examinations. He asked my opinion whether I wanted to opt for aggressive treatment or to for wait and watch symptomatic changes. He explained that this disease affects both men as well as women but ratio is tilted towards woman 1:9. He also explained that this disease is very rare and statistics suggest it happens in 1 person out of 1 lakh sample and is occurs with an age group of 30-45. There is no reason as to why it happened. One day will come when it could go away just the way it came and the science is still lacking to understand the reason why. He said if we believed in miracles, then miracle will happen. Although he was very cooperative and supportive things got into my head. (women-centric disease, cold region disease, I am not even 30. Why is happened to me? I played the victim and went into non-acceptance mode).
We opted to wait and watch. Meds, however, got me discoloration (my skin turned dark). It gave me reflux coupled with frequent vomiting and severe acidity. My meds were blood thinners, HCQs, Antacids, and Multivitamins. Oh. Why malaria meds are given in Scleroderma. I do not have malaria.. things started getting on my nerves. I started googling each and everything happening to me.
May 2014 till December 2014
Things got pretty messed-up. I did not understand what changes were happening in my body. During this period, I was just on Blood Pressure Medicines and Blood Thinners. Frequent refluxes and vomiting made me visit the gastrologist. According to doctors, blood thinner and HCQs were the cause of discoloration and reflux and they discontinued MCQs. Google Baba almost gave me a brain tumor on a simple headache.
During this period, skin started thickening and I started having swelling on my fingertip and nails started to turn like a claw. Initially, we thought that I had injured my finger somewhere. On consulting the doctor, he told explained about clubbing and indicated that probably lungs could have been involved in scleroderma. He ordered various tests like PFT, CT Scan. I could not complete PFT and CT Scan showed doubts of ground-glass opacity. I cried the hell out of my life for not able to perform the PFT. I was prescribed steroids and immunosuppressive medicines. Although he told me if I was wanting to plan a family, I should start then and once the news is positive I need to immediately start immunosuppressive meds. I neither started steroids nor I started Immunosuppressive meds.
January 2015 till July 2016
I visited Singapore and Andamans on holiday during this period. But instead of enjoying it, we were more anxious. If something happens, what will happen if I fall ill? Are there Hospitals? What will be the costs? Am I going to be alright? etc. Luckily nothing happened but could not enjoy the way I wanted to enjoy. Was the anxiousness worth it?
Things got worse in this period. I started steroids but did not start immunosuppressive meds. Things were not going great even on family planning end. In this period, I was diagnosed with the flu. High Fever with temp almost 103 drained entire strength out of the body. I was told to get admitted or stay in isolation for 5 days with flu meds. I stayed in isolation and did not get myself admitted into the hospital. But it was a bummer. As soon as I recovered from the fever, the flu meds caused upset stomach severe gastritis which made me hospitalized to control the vomiting and lose motions. Lungs got further impaired with DLCO reduced from 64 in January 2015 to 28 in May 2016. I also developed mild pulmonary artery hypertension. That is when I decided to quit my CA practice and look for a job. The money I was making in my business was not sufficient to meet my med cost. When I use to disclose my illness to interviewers, I did not get further calls. So I decided not to disclose my illness and give an interview. I got that job in a different city. And I shifted my base from Mumbai to Bangalore. By July 2016, I had shortness of breath and could barely walk half a kilometre.
From March 2014 till July 2016 I was under the victim mode. I was under non-acceptance mode. Why Me? Started googling every symptom. I was chronically depressed that I was not earning enough. I was anxious, troubled, worried. In July 2016 when I visited my doctor in Ambani Hospital, he told me that there was an international scleroderma symposium organized in Bangalore in July 2016 and my case was discussed in the symposium. So when I shifted to Bangalore, I already had a doctor who knew my case even without meeting me.
August 2016 to October 2016
Until now I had not started my immunosuppressive meds. Just when I was settling down in my new job, Both me and my wife agreed to start immunosuppressive meds. Yes, it took time for my body to adjust with the meds but eventually, I got used to it. The workstation in my job was just below the strong AC vent which flared up raynauds. I started wearing gloves to the office which raised many eyebrows. I was getting more depressed. Finally, my boss confronted me about gloves. I told him about scleroderma. He told me that I had not mentioned my illness in the interview and it had raised ethical issues. Had I disclosed my illness it would have impacted their decision to hire me. They gave me 15 days ultimatum to resign or they will terminate my employment. So I resigned from the employment giving 15 days notice. This was intimated to me 1 day before Diwali.
November 2016 till September 2018
I approached a friend from Delhi (someone who had supported me during my CA practice days) to help me find the job. I appraised him with the situation about my employment and resignation. He agreed to help me and got me a job. on 1 November 2016, I resigned giving 15 days notice and on 18th November 2016, I had resumed a new job. The new office was very accommodating and things started sailing smoothly. Financial Stability with Immunosuppressive meds during its job, things became stable. Bangalore cold was managed through thermals and jackets and lots of moisturizers. I had started the gym in this period. But I was never regular.
September 2018 till February 2020
Things took drastic turn. My mother-in-law fell critically ill. She was suffering from Arthritis, Asthama, Diabetes and blood Pressure. She was taking same immunosuppressive meds for past 25 years what I have been taking for past 2 years. If I do not want to be bed ridden, carrying oxygen cylinder around, I need to start my exercise on serious note. That is when I decided to walk every day for 15 mins. It worked like negative wonders. I had feel good feeling from inside. Initially I could just walk 10 mins. Walking helped improve blood circulation. Things started improving. Gradually I started to walk 15 mins, then 30 mins and gradually kept increasing over period of 2-3 months.
I then decided to do jogging. I started in 1 min walking 30-sec jogging and over a few weeks, I increase my jogging stamina. As my regular exercise routine improved, my lungs started improving. I started running more often and participated in 5 k runs over the entire 2019. In 2020 I decided to give 10 K a try and I was able to successfully complete 10K.
Both my Ambani Hospital Doctor as well as Doctor in Fortis Hospital told me few things which helped me a lot.:-
1.There is a fire, and the urgency to douse the fire is utmost priority. Now even if I have dirty water (immunosuppressive meds) which will douse the fire (progressive scleroderma), its worth giving the try. The dirty water (meds) will not do as harm as (side effects) as the wild fire is doing (untreated scleroderma)
2.Do not google
3.Believe in Meds
4. Have Faith
5.Eat good food (avoid oily and spicy food, have small frequent meals, do not skip your breakfast)
6.Exercise Regularly
Following them, today I am able to run for 15-20 mins without any struggle and my overall health is much stable as compared to what it was in July 2016.
Acceptance to Scleroderma is the battle half won