If you have an invisible disability, don't let people diminish your ability.
EVERY RUPEE CAN HELP SOMEONE BREATHE EASIER
Scleroderma is a rare disease, which often goes undiagnosed, or by the time it gets diagnosed there is too much internal involvement. There is no treatment available till now for this rare and gender bias disease. This disease can be managed by tests and treatment. It is a very time consuming and very expensive. As mentioned it is a gender bias disease which affects females between the age of 25-50 years. We have seen many cases where the families do not want to get them treated or they are abandoned by the family as the treatment can be financially and emotionally draining. This disease is not covered under any mediclaim.
We at Scleroderma India try to lend a helping hand to such patients who find dealing with this disease a financial burden.
We want to further fight for our patient rights .we want them to live with their heads held high. We want to empower them with skills so that they are not dependent on anyone and can live with dignity and pride.
Please donate with us to make someones life easy and dignified.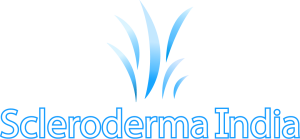 Account Name – SCLERODERMA INDIA TRUST
Bank Name – HDFC
A/c No. – 50200056144989
IFSC Code – HDFC0000279
Branch Name – Sector 16, Faridabad, Haryana, India